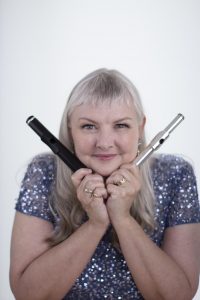 My Story
My career as a flutist began in 1971 in concert band in southern Ontario. Near the end of high school, my band teacher suggested that I study flute with a professional flutist. He introduced me to Donelda Gartshore, principal flutist in the Kingston Symphony and professor of flute at Queen's University. It was during my time at university that I began to teach flute privately. I graduated with a Bachelor of Music degree in 1982.
To further my flute expertise, I studied with Sandra Hoffman, principal flutist of the Regina Symphony and professor of flute at the University of Regina. I then returned to Ontario and completed a Bachelor of Education degree at Queen's University in 1984. I taught music in the secondary school system before heading to Toronto to complete a Master of Education degree at the Ontario Institute for Studies in Education (OISE). I also had the opportunity to further my studies in flute at the Royal Conservatory of Music where I was the student of performer and teacher, Margot Onodera.
After relocating on the west coast, I continued my flute studies with Kathryn Cernauskas, flute instructor and performer at Douglas College in New Westminster. I also taught flute and flute choir in the Community Music School at Douglas College for several years at her request. Studying with Kathryn allowed me to broaden my knowledge of musical styles and genres including classical, contemporary, and jazz.
Performing
As with other art forms, music is to be shared. I have played concerts as a soloist, served as principal flute in wind ensembles and orchestras, accompanied theatrical productions as a pit band member, and worked with other instrumentalists in duos, trios, and other smaller groups. For all musicians, there are many opportunities to play and perform with partners such as guitarists or pianists, or in larger groups such as concert bands, in almost every community.